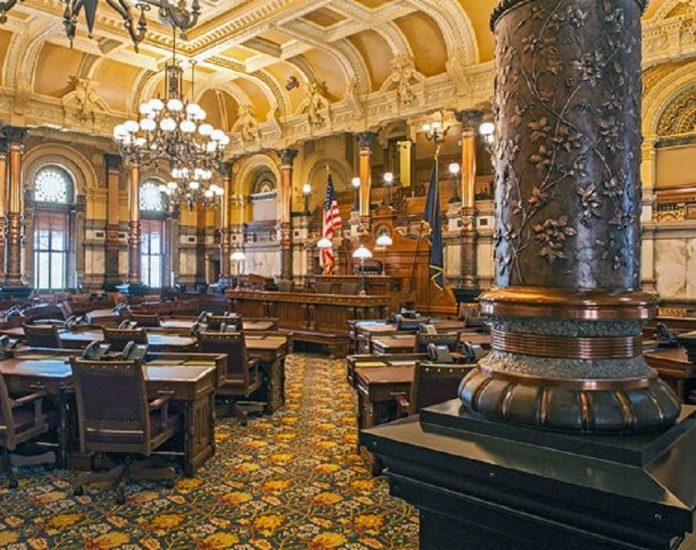 (Updated to correct reference to House)
Lenexa homebuilder Tom Bickimer on Wednesday announced he is running for the Kansas Senate seat held by Democrat Dinah Sykes.
Bickimer, a Republican, unveiled a website with a video making his candidacy official for Senate District 21.
Bickimer touted his business background in revealing his plans to run for the state Senate.
"In the course of deciding whether to run for office, I talked to many respected people who do have political experience," he says in the video. "Time and again I heard that our Legislature in Topeka lacks elected officials with a strong business background.
"I understand what it means to be a small business owner having to make payroll.  I understand what it means to our employees to be on the payroll."
He added, "I've spent my entire business career problem-solving the challenges that surround the construction of homes that will embody the dreams of the families we build for.
"Maybe I am new to the political game," he said, "but it seems to me that I can bring something of greater value to Topeka, something other than the same old political rhetoric that results in nothing ever getting done."
Bickimer's name has been circulating as a Senate candidate for several weeks. He recently acknowledged in an interview with the Sunflower State Journal that he was considering a Senate bid.
Sykes was unfazed by the announcement.
"I was expecting it. It doesn't bother me," she said. "Everyone should have an opportunity to run and let the people choose who they want to represent them."
Bickimer is seeking the seat Sykes has held since 2017. Sykes won the Senate seat as a Republican in 2016 by defeating incumbent Greg Smith in the primary and downing Democrat (now Overland Park city council member) Logan Heley and Libertarian Michael Kerner in the general election.
But last year, Sykes became a Democrat, saying she was out of step with an increasingly conservative Republican Party.
The district, which includes parts of Lenexa, Overland Park, Olathe and Shawnee, has been trending more Democratic in recent years.
Gov. Laura Kelly carried the district by about 23 percentage points over former Secretary of State Kris Kobach.
Democratic Congresswoman Sharice Davids won the district by 13 points over Republican incumbent Kevin Yoder.
Hillary Clinton won the district with 48% of the vote in 2016, and Democrat Paul Davis carried the district by 5 percentage points over former Republican Gov. Sam Brownback in the 2014 governor's race.
Sykes ended calendar year 2018 with about $9,200 in cash on hand while raising about about $8,600.
Bickimer said in a recent interview that he wouldn't be pegged as either a conservative or moderate Republican.
"Right now, I would like to be considered a Republican," he said earlier this month.
"I have talked to folks on either side of the spectrum and have gotten a lot of good, positive feedback from both ends."