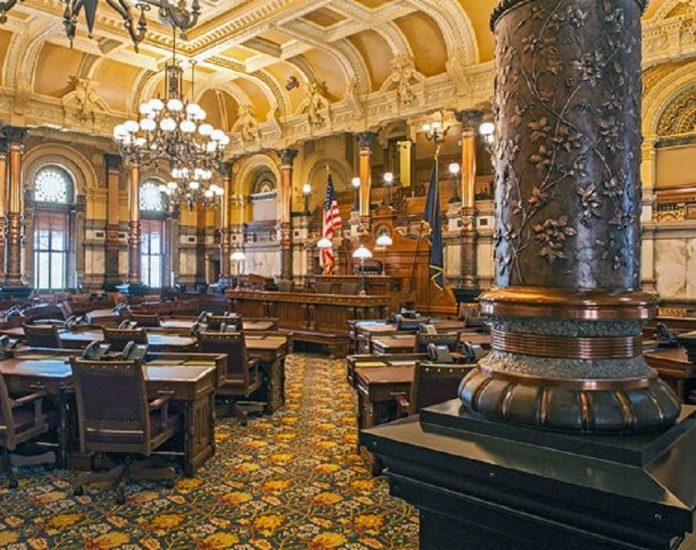 The Senate Commerce Committee on Thursday refused to endorse Gov. Laura Kelly's nomination for commerce secretary following a two-day hearing that the ranking committee member described as an attempt to smear the nominee.
The panel voted against recommending David Toland — the governor's campaign treasurer — for the position after Republicans raised an array of questions that the nominee fought to fend off. The nomination still goes to the full Senate for a vote.
The committee's decision hands another political defeat to Kelly, who just two days ago withdrew her judicial nomination to the Kansas Court of Appeals after a series of angry rants against conservatives on Twitter was revealed.
"David Toland is a seventh-generation Kansan who has given back to his hometown of Iola, as well as many other communities across the state," Kelly said in a statement.
"Kansas could not ask for a better secretary of commerce. He represents the best and brightest our state has to offer."
Throughout the hearing, Republicans quizzed him about a Facebook post, whether he benefited personally from development projects, his experience working in various economic sectors of the state and past political comments.
Democratic state Sen. Tom Holland came to Toland's defense and apologized for the hearing. He said there have been whispers about Toland's background since his nomination was submitted to the Senate for confirmation.
"I'm sorry you had to endure this," Holland said. "I am upset that your children, in particular, have had to sit here and endure this and watch their dad get smeared."
Holland's comments came after a series of questions Thursday morning about whether Toland was sufficiently experienced in agriculture, aircraft manufacturing, workforce development and dealing with various tax incentives.
"I've been here for several department of commerce secretaries, and I've been one of the most outspoken, critical legislators of the previous two," said Republican state Sen. Gene Suellentrop.
"They came to this position full of enthusiasm, excited about doing the work. They didn't have the experience either, but they got passed. One was a disaster, the previous one was mediocre."
Based on the information submitted to the Senate, Suellentrop said he thought there was a "substantial shortfall" in Toland's experience to run the Commerce Department.
"We've got many talented individuals around the state that I think we can support this agency with," Suellentrop said.
Toland noted that he had seven years of urban economic development experience added to 11 more years of rural economic development experience.
"By comparison, my predecessor was a soccer coach and a hand model prior to being appointed as Kansas secretary of commerce, being confirmed 38-0," Toland told Suellentrop.
Toland was referring to former Commerce Secretary Antonio Soave, who was forced out after steering state contracts to his friends and business partners.
"I'll repeat," Suellentrop said. "I've been the most outspoken legislator of the two previous secretaries of commerce. I don't think we want three as a charm."
As the head of Thrive Allen County, Toland was instrumental in the development of 20 miles of new trails, voter approval of a new critical-access hospital, and passage of a law to increase the smoking age in Allen County to 21.
Some supporters of Toland think the smoking initiative may have caused him local political difficulties that are haunting him during the confirmation process.
Toland also worked for six years as an appointee of Washington, D.C., Mayor Anthony A. Williams.
Toland served in a variety of roles in the district, including deputy chief operating officer in the office of the deputy mayor for planning and economic development.
He was later appointed as chief of staff in the office of planning, where he led the legislative effort to obtain city council approval of an overhaul of the city's comprehensive plan.
Holland said he was frustrated by the line of questioning directed toward Toland in the context of other commerce secretaries.
"I am truly blown away when we have members on this committee that sit here and ask you what you know about agriculture," Holland said. "I'm not sure what our previous secretary — Mr. Soave — knew about agriculture. I knew he knew how to kick a soccer ball."'
Holland suggested that the whole controversy over Toland's confirmation was orchestrated by political enemies from southeast Kansas, including Virginia Crossland-Macha, vice chair of the Kansas Republican Party.
Suellentrop fired back at Holland, saying he was offended by the idea that he couldn't ask questions related to the application.
"There's nothing out of order about asking questions in reference to this document," Suellentrop said.
"You heard nothing from me other than an experience question," he said. "We've had numerous other committee hearings on KDHE, transportation, KDADS, others. We ask them hard questions. They have to answer those questions about experience and their involvement in past work."
On the first day of the hearings on Wednesday, Toland apologized for a posting on the Facebook page of Thrive Allen County that promoted Allen County Regional Hospital's sleep clinic.
The post — celebrating "sleep month" — featured a picture of Toland in bed with framed photos of former Gov. Sam Brownback and state Sen. Caryn Tyson on a nightstand, suggesting that the two conservatives were upsetting enough to keep him awake.
Toland, meanwhile, also ran into other questions about comments that he made at a statehouse rally last year for expanding Medicaid.
It was reported that Toland said he was "not proud of people who put political fortune above protecting people's lives." He also remarked that he was not proud of legislators who stopped bills supported by 80 percent of the state.
Republican Sen. Eric Rucker pressed Toland to explain the comments and who they were directed toward. He asked Toland what he meant about "political fortune."
Toland said he purposefully didn't single out specific lawmakers and couldn't say whether he was talking about the Senate.
"We're talking about tone here and the importance of maintaining a tone with the Legislature, specifically those that you ask now to support you," Rucker said.
Toland, the former president and chief executive officer of Thrive Allen County, said he has worked for 11 years as a conservative Democrat in an area of the state that is deeply Republican.
"This is a red county where I have worked and worked successfully and worked alongside people to get things done," he said. "I think that is reflective of my values, of my characteristics and how I operate."