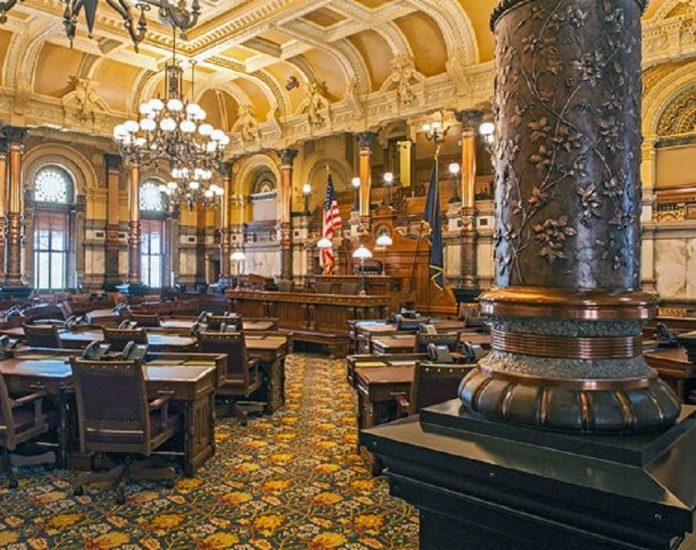 Kansas on Wednesday night moved toward joining a handful of states to pass a ban on transgender girls and women from participating in interscholastic sports for females.
After a fierce and emotional debate, the Senate voted 24-10 to pass the bill, which was portrayed as either an effort to ensure fairness for women in interscholastic sports or an attack on transgender children.
Democrats said the bill – compared at one point to a "bad book report" – would leave lawmakers with "blood on their hands" because transgender children would be bullied in school if the legislation passes and becomes law.
"This is not about protecting women," said Senate Minority Leader Dinah Sykes. "It's about an exclusion of students from sports.
"What we're going to do with this bill is bully kids. We're going to make a group of kids who are already at a disadvantage and we're going to make it worse for them.
"Honestly, there's going to be blood on our hands."
The bill's sponsor, Republican state Rep. Renee Erickson of Wichita, immediately shot back.
"I find it incredibly insulting to use the hyperbole that there will be 'blood on our hands,'" Erickson said.
Erickson said Democrats deliberately tried to steer the debate away from fairness on the playing field to arguments fueled by emotion.
"Every emotional-laden argument that is thrown our way, I can throw right back at them," Erickson said.
"What about the welfare of the girls who have spent their lives training and working only to have their opportunities unfairly removed?" she said. "What about them?"
At least three state legislatures have passed similar legislation.
A bill passed in Idaho is now mired in a constitutional legal battle that is playing out in a federal appeals court after it was initially blocked by a lower-court judge.
Last week, Mississippi Gov. Tate Reeves signed a bill requiring the state's schools to designate teams by sex assigned at birth.
And South Dakota's Legislature passed a similar bill about a week ago, and Gov. Kristi Noem said at one point she was excited about signing the legislation.
The Kansas legislation also is expected to end up in court. The American Civil Liberties Union has already indicated it would challenge the bill if it becomes law.
Sykes ridiculed the idea that the bill is about protecting women, while supporters at the same time were contending that men were superior athletically.
"I appreciate several of my male colleagues telling me how they want to protect the underdog, how men are superior," she said.
"I actually find that rather misogynistic and rude."
The debate heated up later when Democratic state Sen. Ethan Corson pressed Erickson a couple times for who authored the bill, which he said read like a "bad book report."
"Again, here we go with the insults because they can't deal with the facts of what we're dealing with this bill," Erickson said.
At one point, Corson, a Prairie Village Democrat, tried unsucessfully to amend the bill with language from legislation that Democratic state Rep. Brandon Woodard introduced earlier in the day over in the House.
Woodard's bill would make it illegal to disclose the gender or sexual orientation of a child without the child's permission.
"This legislation is dangerous and wrong for Kansas, and it will certainly lead to costly litigation and will have a negative impact on our economy," Woodard said.
"Kansas should be a place that is welcoming to all, regardless of who they are or who they love," he said in a statement when introducing the legislation.
From the outset of the debate, Erickson – a former college basketball player – said the bill was about ensuring an even playing field for biological female athletes.
Without protecting gains made because of Title IX, female athletes will be relegated to the role of spectators in sports and be denied opportunity, she said.
Erickson said men are inherently physically different from women, arguing that they have more muscle mass, long and thicker bones, more lung volume and larger hearts, among other physical attributes.
"This remains true even for biological males who have undergone hormone treatment," she said. "Often, these advantages remain unchanged or decrease slightly."
Sykes said determining biological sex isn't necessarily that easy to define.
"Biological sex isn't as straightforward as they likely think," she said. "There is no one parameter that makes a person biologically male or female."
Democrats also questioned the need for the legislation, saying that the Kansas State High School Activities Association has guidelines in place to address transgender students participating in sports.
The bill "is creating a problem and opening the door to discrimination and bullying of our Kansas students from K-12," Democratic state Sen. Pat Pettey said.
Republican state Rep. Virgil Peck of Havana said his support for the bill was a matter of "old-fashion chivalry."
"Are we going to protect young ladies from losing opportunities to stand at the top of the podium to receive a gold medal," Peck asked. "I will. I'm going to take a stand.
"Have we, men, given away our man card to the snowflakes?" he said. "Are we going to allow someone to carry our manhood around in their fanny pack or their purse?
"Are there no longer any alpha males who stand and defend our young ladies, our wives our daughters, our granddaughters?"