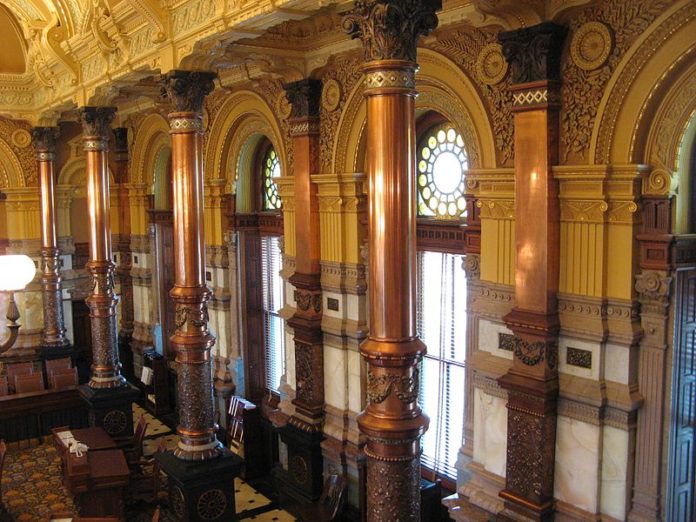 A Senate committee on Monday delayed action on Gov. Laura Kelly's appointments to the Kansas Board of Regents after asking pointed questions about the political activity of a Republican nominee who has supported Democrats.
The Senate Confirmation Oversight Committee postponed until Wednesday a decision on former BNSF Railway executive Carl Ice, former Kansas City, Kansas Schools Superintendent Cynthia Lane and Lawrence attorney Wint Winter Jr.
It's believed that Winter's nomination is most in jeopardy because of his history of political engagement against conservative Republicans.
Senate President Ty Masterson raised specific questions about Winter, saying he was "one of the most politically engaged people we've ever had stand before us as an appointee."
While Masterson said that wasn't necessarily a negative, the Senate president wanted to know whether the former lawmaker was still engaging in any political activities, including in his role in the Save Kansas Coalition and Republicans for Kansas Values.
Winter said Republicans for Kansas Values started in 2011 or 2012 and was made up of former members of the Legislature who were Republican.
He said the group was created to oppose former Gov. Sam Brownback's tax policy that was blamed for crippling the state budget before most of it was reversed in 2017.
The Republicans for Kansas Values group, he said, came to an end when the former governor's tax cuts were reversed.
Winter also was among the moderate Republicans who backed Democrat Paul Davis for governor in 2014 and supported Laura Kelly for governor in 2018.
Senate Majority Leader Larry Alley pressed Winter about his role with the Save Kansas Coalition compared to Republicans for Kansas Values.
Alley noted that there was no information in Winter's confirmation packet about Republicans for Kansas Values, which Winter said focused on Brownback's tax policy.
The Save Kansas Coalition came about later as a 501(c)(4) nonprofit to raise money and incorporated a broader group of people.
State records show that Winter started the group along with former Senate President Steve Morris in 2016. The group had the same address as Winter's law firm.
Back in 2016, former Govs. Kathleen Sebelius, John Carlin, Bill Graves and Mike Hayden joined together to unite behind the coalition.
The coalition, which raised about $500,000 in 2016, intended to educate voters and "draw a contrast between deserving candidates and those who serve only to push forward the governor's dangerous agenda."
Winter acknowledged that he's still on the board of directors of the Save Kansas Coalition, but said the group hasn't had a meeting in more than a year.
He said the group had a vote about 1 1/2 years ago to end all activity and wind down the organization.
He said the group is waiting to get to the end of this year to file its last tax return.
"There's been no activity, and there will be no further activity in that entity," he said.
The group's most recent available tax return from 2018 showed it raised about $308,000 that year and was about $3,000 in the red at the end of the year.
The return lists Winter as the group's chair as well as secretary and treasurer. Carlin was listed as vice president and director. Morris was a director.
During the hearing, Masterson quizzed each of the regents candidates about their views about critical race theory, an idea developed by legal scholars more than 40 years ago that suggests racism is rooted in the country's institutional policies.
Lawmakers advocating for limits on critical race theory says it's being taught in a way that fosters divisions among students.
But opponents say such legislation will shut down discussion of how racism and sexism have impacted the country and its institutions.
In answering the question, Ice told lawmakers he would listen, learn and engage people on the topic.
"I think that's the right way to do things," he said. "My first answer about something like this, sort of starts with that."
Ice said when the issue comes up, he thinks about diversity and inclusion.
"Diversity and inclusion is important to me, to my family, to BNSF, to other businesses, to higher education, to people." Ice said. "It is personal."
He added, "What I think our institutions of higher learning do and should keep doing is to teach people how to think, help them with how to think, as opposed to what to think."
The same question was asked of Lane.
Lane said the language of critical race theory was relatively new to her and she needed to understand more about the specifics of the debate.
She said educators need to ensure students graduate with an understanding of how to function in a diverse community by being critical thinkers, skilled problem solvers and effective communicators.
"These are the kinds of things I believe we should focus on together," she said.
Winter said critical race theory should not be taught in state universities.
"Where we have the opportunity to teach not theories, but facts, we should teach facts," Winter told legislators.
"In my view, we do in our society need to continue to fight for equal rights, but I think that will best be advanced by teaching the factual history of the long struggle in this country for equality," he said.
"In my opinion, there's nothing more powerful than teaching those sad facts about the history of our country and the need for people to respond by continuing that fight."
Democratic state Sen. Pat Pettey of Kansas City urged the committee to move forward on all the nominations on Monday.
Pettey said it was "inconsiderate" of the nominees to delay action on Monday.
Masterson said he wanted 24 hours to 48 hours to deliberate.
"Quite frankly, our consideration is of the people we serve," he said.
In other action on Monday, the committee voted to recommend these nominations to the full Senate to take up next year.
Recommended the nomination of Michelle Ewert to the Board of Indigent Defense Services. She replaces Ronald Wurtz. Ewert has been a professor at Washburn University Law School since 2017. Previously, she served a clinical teaching fellow in the Civil Advocacy Clinic at the University of Baltimore School of Law. She also worked as a staff attorney and housing law supervisor at the Homeless Persons Representation Project in Baltimore, where she litigated subsidized housing cases. She also worked as a staff attorney at Central California Legal Services in Visalia, California and at HOPE Fair Housing in Wheaton, Illinois.
Recommended Tyler Hight to the state Banking Board. He would replace Casey Lair. Hight is president and CEO of American Bank of Baxter Springs. He also held positions of president and chief operating officer as well as executive vice president and chief operating officer. He started with the bank in 2012. He also worked as in-chambers research attorney at the Kansas Court of Appeals from 2008 to 2012. He has a bachelor's degree in justice studies from Pittsburg States, a master's degree in justice studies from Pittsburg State and a law degree from Washburn University.
Recommended Moniqueka Holloway to the Kansas Development Finance Authority. She would replace Craig Scott Anderson. Holloway is the NIAR federal contract and compliance manager at Wichita State University. She also worked as an account manager for Wichita Kenworth and for Big Brothers Big Sisters. She has a master's in business administration from Southwestern College and a bachelor's in psychology from Wichita State.
Recommended the reappointment of Jonathan Gilbert to the Public Employee Relations Board. He now serves as the county administrator and public information officer for Ford County. He has a bachelor's in biology/chemistry/health care administration from Kansas Wesleyan University. He also has a master's in business and health administration from Kansas Wesleyan.