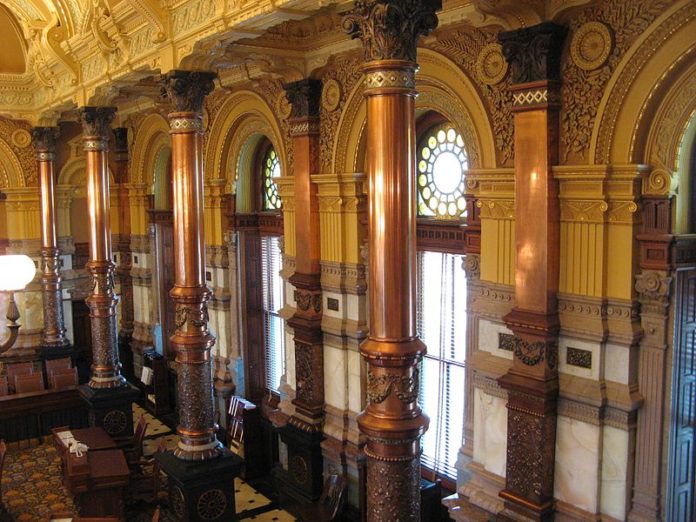 The Kansas Senate overwhelmingly confirmed Wichita lawyer Kristen Wheeler to the state Board of Tax Appeals despite getting a tepid review from the tax committee.
The Senate voted 39-1 to confirm Wheeler to the three-person board, which resolves tax disputes from across the state. Republican Sen. Virgil Peck cast the lone dissenting vote.
The tax committee had sent Wheeler's confirmation to the Senate without a recommendation, sometimes a kiss of death for a nominee.
Senators had questioned whether Wheeler – a recent finalist for the state Supreme Court – had a sufficient background in real estate appraisals and why she wasn't more candid about discussing a change in party affiliation.
One Republican senator said he wasn't satisfied that Wheeler had taken the tests and coursework required of members of the Board of Tax Appeals.
The law says that after an appointment, members of the state Board of Tax Appeals who are not certified property appraisers must take a series of courses and tests on real estate appraisals.
Democratic state Sen. Ethan Corson said he didn't think the committee judged Wheeler fairly.
He highly doubted that anyone seeking the attorney seat on the tax appeals board would have already taken courses in real estate appraisal.
Republican Sen. Molly Baumgardner of Louisburg had raised concerns about why Wheeler needed to be pressed about changing her party affiliation.
During her confirmation hearing, Wheeler was asked a couple times about changing her party affiliation to unaffiliated from Democrat just before the governor nominated her to the tax appeals board.
Wheeler now works as a law clerk to U.S. District Judge Thomas Marten.
She was among three finalists recommended for a seat on the Kansas Supreme Court but lost out to Melissa Standridge.
Wheeler has worked with the Robinson Law Firm in Wichita, focusing on business advising and litigation, real estate advising and litigation, small-business representation, and intellectual property protection.
Wheeler told the committee that about 75% of her work at the Robinson Law Firm was in property as well as general litigation and some consumer protection work.
She had not represented any clients before the tax appeals board.
She also was of counsel to Morris, Laing, Evans, Brock & Kennedy and has sought seats on the Kansas Court of Appeals and the state Supreme Court.
She has bachelor's degrees from the University of Kansas in biodiversity, ecology and evolutionary biology and a law degree from Washburn University.
In other appointment news, the Senate also confirmed:
Steven Anderson, Medicaid inspector general, 40-0.
Brandon Jones to the Kansas Racing and Gaming Commission, 39-0.
Suchitra Padmanabhan to the Kansas Development Finance Authority, 40-0.
Mark Uhlig to the Kansas Hospital Authority, 40-0.
Tom Phillips to the State Civil Service Board, 35-0.
Rebecca Dickinson to the Kansas Crime Victims Compensation Board, 40-0.
Sheryl Gilchrist to the State Civil Service Board, 40-0.